December 23, 2021
The Ministry of Economy, Trade and Industry held the CEFIA Japan Seminar 2021 online on December 17 (Fri.).
The seminar consisted of two sessions. The first session included an opening address given by Mr. Nasuno Futoshi, Director-General of the Industrial Science and Technology Policy and Environment Bureau, as well as keynote speeches by the ASEAN Centre for Energy and Japanese companies. The second session included presentations and discussions on the status of efforts and expectations for the CEFIA by organizations participating in the CEFIA flagship project.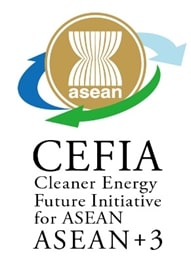 About the CEFIA Japan Seminar 2021
(1) CEFIA (Cleaner Energy Future Initiative for ASEAN) is an initiative proposed by the government of Japan with the aim of promoting transition to green energy and decarbonization in the ASEAN region through businesses, and it has been in motion since September 2019.
(2) The CEFIA Japan Seminar 2021 held on December 17, 2021 was aimed primarily at domestic companies to convey the significance and appeal of CEFIA in promoting and expanding decarbonization businesses throughout the ASEAN region through keynote speeches and panel discussions. More than 200 people participated in this online seminar.
Session I: Keynote speeches
(1) At the beginning, Mr. Nasuno, Director-General of the Industrial Science and Technology Policy and Environment Bureau, gave an opening address and explained the government's policy on climate change. While taking into account CEFIA's current progress, he expressed his hopes that Japan's international contributions would be promoted through the expansion of CEFIA's activities and the quantification of effects of the reduction of greenhouse gases with a view toward concrete targets. He also talked about his expectations that many businesses would join CEFIA.
(2) Afterwards, Mr. Nagata Toshiaki, Director of Global Environment Partnership Office, described the results of COP26 and gave an overview of CEFIA. Dr. Nuki Agya Utama, Executive Chair of the ASEAN Centre for Energy, presented through a video message the energy situation in the ASEAN region and the policy for future energy cooperation based on that, and he expressed strong expectations for CEFIA and Japanese companies.
(3) In keynote speeches by Japanese companies, Hitachi, Ltd. explained its efforts toward its carbon neutrality goals, and Sumitomo Mitsui Financial Group, Inc. explained its financial efforts toward decarbonization.
Session II: Panel Discussions
(1) Session II was titled "CEFIA Flagship Projects and Other Efforts" and focused on the flagship projects being undertaken by CEFIA. First, domestic companies participating in the flagship projects and partners from the ASEAN region gave explanations of the three projects: zero-energy buildings, automatic control technology for factories, and finance.
(2) The following panel discussions went over the challenges of promoting decarbonization businesses in the ASEAN region, expectations for CEFIA in the future (including addressing those challenges), and business opportunities in the ASEAN region in response to carbon neutral trends.
(3) Lastly, Mr. Kihara Shinichi, Deputy Director-General for Technology and Environment, gave the closing remarks and again called for many Japanese companies to understand and participate in CEFIA.