Opening Ceremony Held at the Japan Pavilion
October 1, 2021
An opening ceremony to mark the long-awaited start of Expo 2020 Dubai was held at the Japan Pavilion today. In conjunction with the opening, two special websites have also been launched under the name "Virtual Japan Pavilion." Official social media accounts have also been launched to keep everyone posted.
Opening of the Expo
The first-ever registered expo in the Middle East and Africa, Expo 2020 Dubai kicked off today, October 1 (Fri.), 2021, and the Japan Pavilion within the site held an opening ceremony.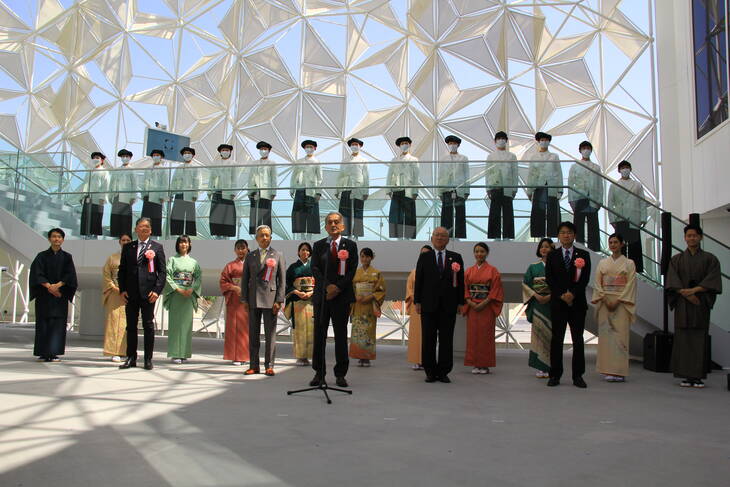 At the opening ceremony, Mr. Inoue Manabu, Deputy Director-General for World Expo 2025 at the Ministry of Economy, Trade and Industry (METI), delivered an address as the representative of the lead organizing ministry, and Mr. Nakamura Tomiyasu, Commissioner General of the Japanese Section, Expo 2020 Dubai, declared the opening of the pavilion.
Expo 2020 Dubai will run for 182 days, from October 1 (Fri.), 2021 to March 31 (Thu.), 2022. The Japan Pavilion's theme is "Where ideas meet," and its vision is for Japan to continue to be a place where ideas from all around the world meet, and by bringing these ideas together, to spark new innovation toward creating a better tomorrow.
Launch of "Virtual Japan Pavilion"
In light of COVID-19, the Japan Pavilion launched two special websites today under the name "Virtual Japan Pavilion." The digital experience has been devised to offer new ways to enjoy the Expo pavilions, enabling people to explore and participate in them from anywhere in the world. One of the two websites, "JUNKAN," is an online platform where visitors can share issues and ideas in the form of messages. It was built as a joint project with Expo 2025 Osaka, Kansai, Japan.
Launch of official social media accounts
To accompany its long-awaited opening, the Expo 2020 Dubai Japan Pavilion has also launched new official Instagram and Facebook accounts to post updates from the site. Please do check them out.
Menu chosen for the Japan Pavilion restaurant
Kaiten sushi chain Sushiro is opening its first restaurant in the Middle East to serve visitors to the Japan Pavilion. Sushiro Expo 2020 Dubai is offering about 120 food items, all made to be halal so that Muslim diners can enjoy eating with peace of mind. The menu includes Japan-quality Tuna and Tuna with Avocado—popular classics for the chain's patrons in Japan—Salt Ramen, and exclusively for Expo 2020 Dubai, Tuna Roll with Avocado.
Theme of the Japan Pavilion:
Where ideas meet
Lead organizing ministry:
Ministry of Economy, Trade and Industry
Co-organizing ministries:
The Ministry of Internal Affairs and Communications, the Ministry of Education, Culture, Sports, Science and Technology, the Ministry of Agriculture, Forestry and Fisheries, and the Ministry of Land, Infrastructure, Transport and Tourism. Participating organization: The Japan External Trade Organization (JETRO)
Area of the site:
Approximately 5,161.8 square meters
Period:
From October 1, 2021, to March 31, 2022
Expo 2020 Dubai Japan Pavilion Website