May 18, 2022
The 1st meeting of the "Japan-Indonesia Public-Private Economic Dialogue (Track 1.5)" was held at Jakarta to discuss promotion of efforts by Japanese and Indonesian public and private sectors in the areas of digital technology, human capital, supply chains and green industry, based on "the ASIA-Japan Investing for the Future Initiative."
The 1st meeting of the Japan-Indonesia Public-Private Economic Dialogue (Track 1.5) was held at Jakarta on April 25.
The launch of this dialogue was agreed upon by Minister Hagiuda and Mr. Airlangga, Coordinating Minister of Economic Affairs, in January this year.
In this meeting, both sides discussed how to promote collaboration through specific projects related to important themes in the G20 and policies of the Indonesian government such as digital technology, promotion of green industry, supply chains and human capital development to make "the ASIA-Japan Investing for the Future Initiative" which was announced this January, tangible.
In addition, both sides discussed deepening economic relations for regional development and the Japanese side made requests related to improving the business environment. Both sides decided to continue to hold discussions with the stakeholders.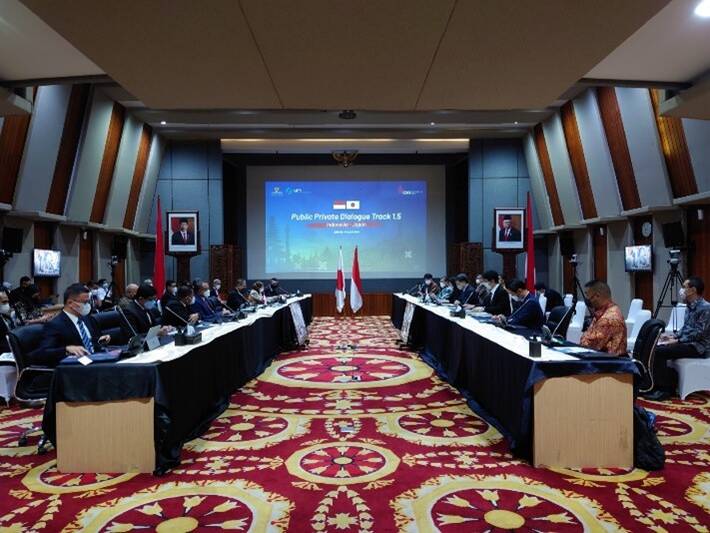 Outline
Date and time: April 25, 2022 9:00-12:00(Jakarta time)
Venue: Conference room in Coordinating Ministry of Economic Affairs ※Hybrid meeting
Participants: Japan Side: Ministry of Economy, Trade and Industry Vice Minister Mr. Hirose (Co-Chair), Embassy of Japan in Indonesia Minister Mr. Usui (Co-Chair), Keidanren, Jakarta Japan Club, JETRO, etc. Indonesia Side: Coordinating Ministry of Economic Affairs Deputy Minister Mr. Edi (Co-Chair), relevant ministries agencies such as the Ministry of Manpower, Marine Affairs and Fisheries, and KADIN, etc.
Outline of discussion
1. Exchange of opinions on specific projects for each area
Human capital development                 
Digital technology                 
Supply Chain             
Promotion of Green industry 
2. Deepening economic relations for regional development(DISG and so on)
3. Other issues(Requests related to improving the business environment in Indonesia)