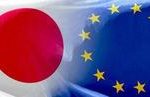 Japanese cabinet has approved legislation that would ratify a free trade agreement with the European Union, aiming to bring the pact into force February 1, 2019 as latest.
The sprawling agreement would create a bloc covering about 30% of global gross domestic product and roughly 40% of world trade. The combined GDP of Japan and the EU is almost the same as that of the bloc formed by the trade deal between the U.S., Canada and Mexico, making the Japan-EU FTA one of the largest in the world, according to Japan's Ministry of Foreign Affairs.
Japan and the EU will eliminate 94% and 99% of tariffs, respectively, in such fields as agricultural, seafood and industrial products. Tokyo expects the economic partnership agreement to increase its real GDP by 5 trillion yen ($44.1 billion) and add about 290,000 jobs.
Under an earlier agreement, the deal will take effect on the first day of the second month after both sides complete ratification procedures. The EU is expected to conduct its final vote in mid-December.
The EU will lower a 10% import duty on Japanese cars to zero in eight years and remove 92% of tariffs on Japanese automobile parts. Japan, meanwhile, will eliminate tariffs on EU wine and create an import ceiling for soft cheese that will be completely phased out in 16 years.
Tariffs will be abolished on 80% of Japan's agriculture, forestry and fishery products. The two sides will also protect geographical designations on farm products, which Japan hopes will boost exports of its food and alcohol.
In addition, Japan's cabinet will put forward legislation aimed at spurring Japanese agriculture exports and improving the sector's productivity. To protect domestic farmers, Japan will cover 90% of beef and pork producers' losses, up from 80% now.
On top of the 11-member Trans-Pacific Partnership agreement, which will go into effect on Dec. 30, Japan has positioned the deal with the EU as a pillar of free trade. The agreement represents a multinational bulwark against the Trump administration's "America First" tactics.
Japan is preparing for the so-called Trade Agreement on Goods talks with the U.S. early next year. The Trump administration may want to ink a deal quickly should the TPP-11 and Japan-EU pact reduce the international competitiveness of American farmers. But Tokyo wants agriculture tariffs to be lowered only as much as in those agreements, terms it believes the U.S. will accept in the interest of concluding to a speedy deal.